New Command scenario: Red Storm – Vampire, Vampire!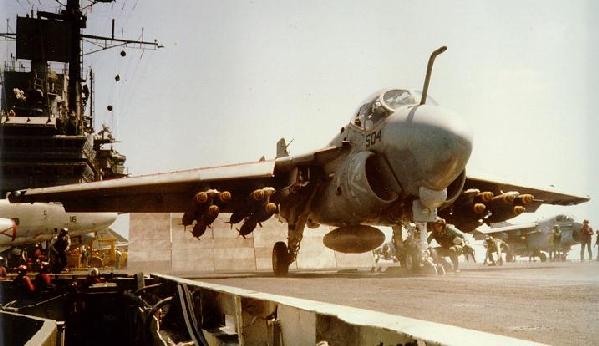 Database – DB3000
Author – Doug Joos 'djoos5'
NATO vs. Soviet Union
Date/Time: 20th November 1990
Location: G-I-UK Gap and Iceland
Playable Sides: NATO
In 1990, inside the Soviet Republic, hardline Communists within the politburo and military, who do not abide President Gorbachev's perestroika and glasnost stage a coup d'état and wrest the control of the Soviet power to themselves. Knowing NATO would be quick to react against them and would try to return the former president to power; they unleash the Soviet Navy and ramp up Eastern European Bloc forces. It is the onset of World War III.
NATO has finally had a chance to organcize its forces, but it is still a reactionary situation. The United States Navy having stopped the Soviet's efforts to move missile subs into the Atlantic Ocean has moved their carrier battle group north to project power over Iceland and into the Norwegian Sea. The predictable move was expected, if not anticipated, by the Soviet Naval Air Command who now have the ultimate opportunity to sink the vaunted American carrier. It is time to see if land based bombers can overcome the Nimtz's air and sea defenses and take the ship out of the fight. To do so will open up the sea lanes to Soviet bombardment, which will bring a rapid end to the war in Europe.
Note
This is Scenario 2, Vampire Vampire!, of a three-scenario campaign called Red Storm. In this second encounter, the United States, along with its NATO allies have finally had a chance to organize themselves after the sudden assault, but it was not without loss. Soviet forces have pushed into northern Norway and along with a sea-based landing, were able to capture the airbase at Bodø. The player still faces a situation with limited assets and a number of objectives, of which the Primary will be the ultimate goal for success of the scenario. Points will be earned on all objectives, but scores are affected most by primary goal success.
The final scenario will pick up where the last has left off and take into account munition usage, maintenance and losses, along with reinforcements. Additional assets will be made available to each side as the war progresses and the combatants gain a better control of their situations.
Orders for Commander NATO Forces
DEFCON-1. RULES OF ENGAGEMENT OPTION ALPHA NOW IN EFFECT. THIS MESSAGE IS TO BE UNDERSTOOD THAT HOSTILITIES BETWEEN NATO AND THE WARSAW PACT HAVE INITIATED. NUCLEAR OPTIONS ARE RESTRICTED UNLESS ORDERS COME FROM COMMAND AUTHORITY. TAKE ALL MEASURES CONSISTENT WITH THE SAFETY OF YOUR COMMAND.
Situation
NATO forces have had a successful start to the war, since the loss of Iceland. The Soviet Yankee subs that had attempted to break past Iceland through the G-I-UK gap were persecuted and destroyed before they could disappear into the expanse of the Atlantic. Still, the engagement did not go without losses of air, surface and sub-surface forces. The Nimitz has moved into a position project power over Norway, England and Iceland but now presents itself as a grand target for the Soviet Maritime Air assets.
The war in Europe has also had nominal results. The Soviet Army trying to make a quick knockout punch against Germany, and by so doing, break up the NATO alliance, has stagnated against vicious allied counterattacks. NATO air assets have had a demoralizing affect against the Soviet Army by hitting as many command and control positions, along with bridges and other transits along the Red Army's path. But materials for war are on the side of the Soviets, who have a seemingly endless supply, and NATO Forces lines are starting to come undone due to this fragility. Resources from the United States are greatly needed and the resupply efforts are now priority. Convoys out of New York and North Carolina are now plying the seas in an effort to make the crossing with as little loss as possible.
Enemy Forces
The primary threat from the Soviet Union at this time is fast attack subs that pushed through the G-I-UK gap and air assets based in Iceland, Bodø and Kirovsk. Although the Nimitz battle group was able to damage the Soviet forces based in Keflavik, Iceland, the air corridor over the island is still open for the Soviet Backfire bombers to interdict the NATO efforts to resupply.
It is imperative that the bombers be shut down.
Friendly Forces
CVBG -9 [CVN 65-Nimitz (Nimitz), CG 52-Ticonderoga (Bunker Hill), CG 49-Ticonderoga (Vincennes), DD 963-Spruance (Stump), DD 965-Spruance (Kinkaid), FFG 9-O.H. Perry (Wadsworth), FFG 7-O.H. Perry (O.H. Perry), AOR 1-Wichita (Wichita)]
CAW:  12 F-14A, 12 F-14B, 24 F/A-18A, 10 A-6E, 4 EA-6B, 4 E-2C
SSN 704  SSN 704-Los Angeles (Baltimore)
SSN 713 SSN 713-Los Angeles (Houston)
Stornoway, UK AB  [7 P-3C, 4 Nimrod, 14 F.3]
Convoy-900 [CG 59-Ticonderoga (Princeton), DD 977-Spruance (Briscoe), FFG 10-O.H. Perry (Duncan), FFG 21-O.H. Perry (Flatley), 8 Commercial vessels]
The USAF F-15C fighter regiment that had been redirected to Scotland at the onset of battle has been reassigned to its original stationing in Ramstein, Germany.
TOP SECRET: Having doubled the efforts of the yard in Norfolk, Virginia, the U.S.S Dwight D. Eisenhower will be putting to sea along with her entire carrier wing, and escorts, in seven days. The Eisenhower will be moving to position in support of Nimitz.
Primary Objective
NATO forces are to protect the two convoys that are transiting the Atlantic Ocean and see it to Le Havre, France.

CVBG_9 is to commence attacks on Keflavik, Iceland.

CVBG_9 is to seek and destroy as many of the TU-22M Backfire bomber raids that it can.
Secondary Objective
CVBG_9 is to be protected from the Soviet Naval Air attacks at all cost.
Execution
At your discretion; destroy enemy high-value targets.
Command & Signal
Command: USLANTCOM
Signal: EMCON StateC, unrestricted emissions
Rules of Engagement (RoE)
Only nuclear weapons are restricted unless ordered from USLANTCOM.
Comments