Miguel Molina has released a new revision of the Command community scenario pack, the compendium of Command scenarios crafted by the user community. The new release contains nine brand-new scenarios:
As always, the community scenario pack is available for download at the WarfareSims download section: http://www.warfaresims.com/?page_id=1876
With the new scenario pack release, the total number of released Command scenarios is now 172!
Author: Miguel Molina 'Meroka37′
Chile vs. Argentina
Date/Time: 22nd August 2014 / 08:00:00 Zulu
Location: Antarctic
Playable Sides: Chile, Argentina
Background (Fictional)
During 1995 the Chilean government decided to send several expeditions to explore the Antarctic region for oil reserves. These explorations ended in a low level conflict with Argentina, the issue was resolved under UN.
In 2014, in spite of agreements to abandon any kind of oil survey in the area signed, an oil Chilean company with the back up of British companies resumes the search for oil.
Argentina has obtained reports about these plans and also about the Chilean base from which all exploration team operates.
After an ultimatum by Argentina to Chile to cease what it is seem as illegal behavior, the old conflict is back.
NOTE: Let the scenario run for 1 second before start giving orders to units.
Author: Miguel Molina
Egypt, which has been involved for a long time in social unrest and riots due to the pretension of some extreme Islamic parties to reach the power by the use of force is in a brink to a civil war; the military government try to hold the control of the situation by means of martial law. Libyan leaders decide to support theses parties by supplying weapons.
In this scenario Libyan government sends a small convoy with supplies for the Egyptian rebels.
Hint: Run the scenario for 1 second before start giving orders to units.
Author: Mark Gellis
In 1981, SSN 691 Memphis completed an around-the-world cruise. This scenario assumes that during this time she was called upon to assist in the completion of a covert mission.
————————
*** OPERATIONAL: IMMEDIATE ***
ATTN: Commanding Officer, Memphis
SITUATION
One of our HUMINT assets based in the People's Republic of China believes his cover has been compromised and has requested immediate extraction.
ENEMY FORCES
Unknown.  Expect some Chinese coastal patrols and naval units to be in your area.
FRIENDLY FORCES
Memphis is the only American vessel in the area available for this mission.
MISSION
1. Proceed to Point Alpha, marked on your tactical map, as quickly as you can without risking detection by Chinese forces. 
2. Rendevous with our agent, who will approach the Memphis in a small boat.
3. Proceed as quickly as possible, without risking detection, to Point Beta, marked on your tactical map.  Remain at Point Beta until you receive further instructions.
EXECUTION
Avoid detection.  If you are detected, withdraw immediately.  Do not allow the Memphis to fall into Chinese hands. 
Do not initiate hostilities with Chinese forces.  You may only fire in self-defense. 
COMMAND AND SIGNAL
Command: Memphis
Signal: EMCON Condition A (No Emissions)
Good luck.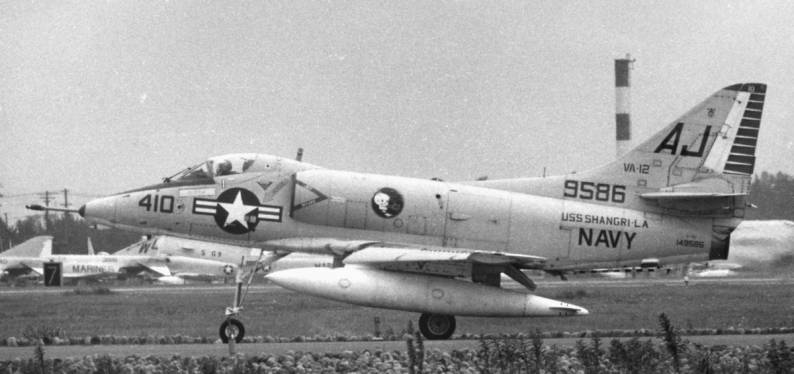 Author: Mark Gellis
This scenario assumes that, in the mid-1960s, tensions increased dramatically between Egypt and the United States.  With Egypt threatening maritime traffic in the eastern Mediterranean, the United States has decided to act.  The President has decided that an air strike against an Egyptian air base will be a suitable demonstration of American firepower and American resolve.
——————————————————-
*** OPERATIONAL: IMMEDIATE ***
ATTN: Commanding Officer, Shangri-la
SITUATION
The situation with Egypt continues to deteriorate.  Egypt is now threatening to attack American-flagged vessels attempting to enter Egyptian waters.  The President has decided that a show of force is necessary to remind Egypt of American firepower and American resolve.
ENEMY FORCES
The most signfiicant threat to your forces will doubtless be the Soviet-supplied aircraft that now makes up much of the Egyptian air force.  In addition, you are likely to encounter Soviet-supplied patrol boats and missile boats.
The Soviet Union almost certainly has some vessels and submarines in the area.  These will probably supply Egypt with intelligence.
FRIENDLY FORCES
Your battle group consists of CVA 38 Shangri-la, DD 701 John W. Weeks, DD 940 Manley, DDG 23 Richard E. Byrd, AO 97 Allagash, and SSN 604 Haddo. 
A detachment of EF-10B Skyknights is at Souda Air Base and is chopped to your command.
MISSION
Proceed to a suitable distance from Mersa Matruh Air Base and conduct air strikes against Egyptian forces located there until you receive further orders.  Your primary goal is to eliminate all aircraft based at Mersa Matruh and to render the base incapable of further use until repairs can be effected.  You are also free to attack targets of opportunity.
Do as much damage as you can.  A principal goal of this mission is to show the Egyptians that we will not tolerate threats to our merchant shipping and that we have the means and the will to inflict significant damage on their homeland whenever we wish to do so.
EXECUTION
It is possible that Soviet forces will approach your vessels.  However, do NOT initiate hostilities with Soviet forces.  You may return fire if you are attacked.
Special weapons release is NOT anticipated.
If necessary, aircraft may refuel at Souda Air Base. 
COMMAND AND SIGNAL
Command: Shangri-La
Signal: EMCON State C (Unrestricted Emissions)
Good luck and Godspeed.